Message from the CEO and President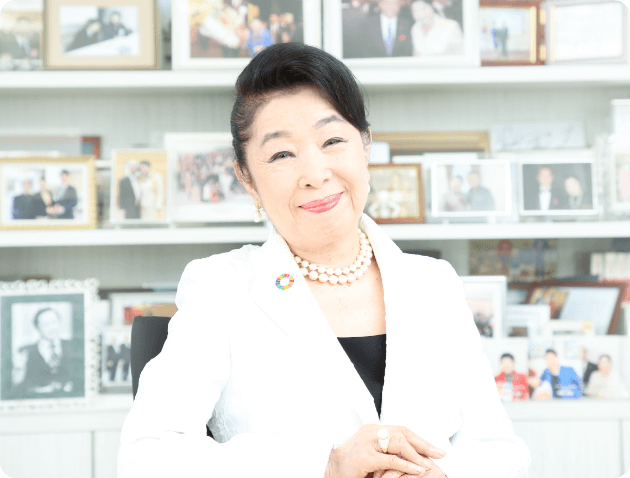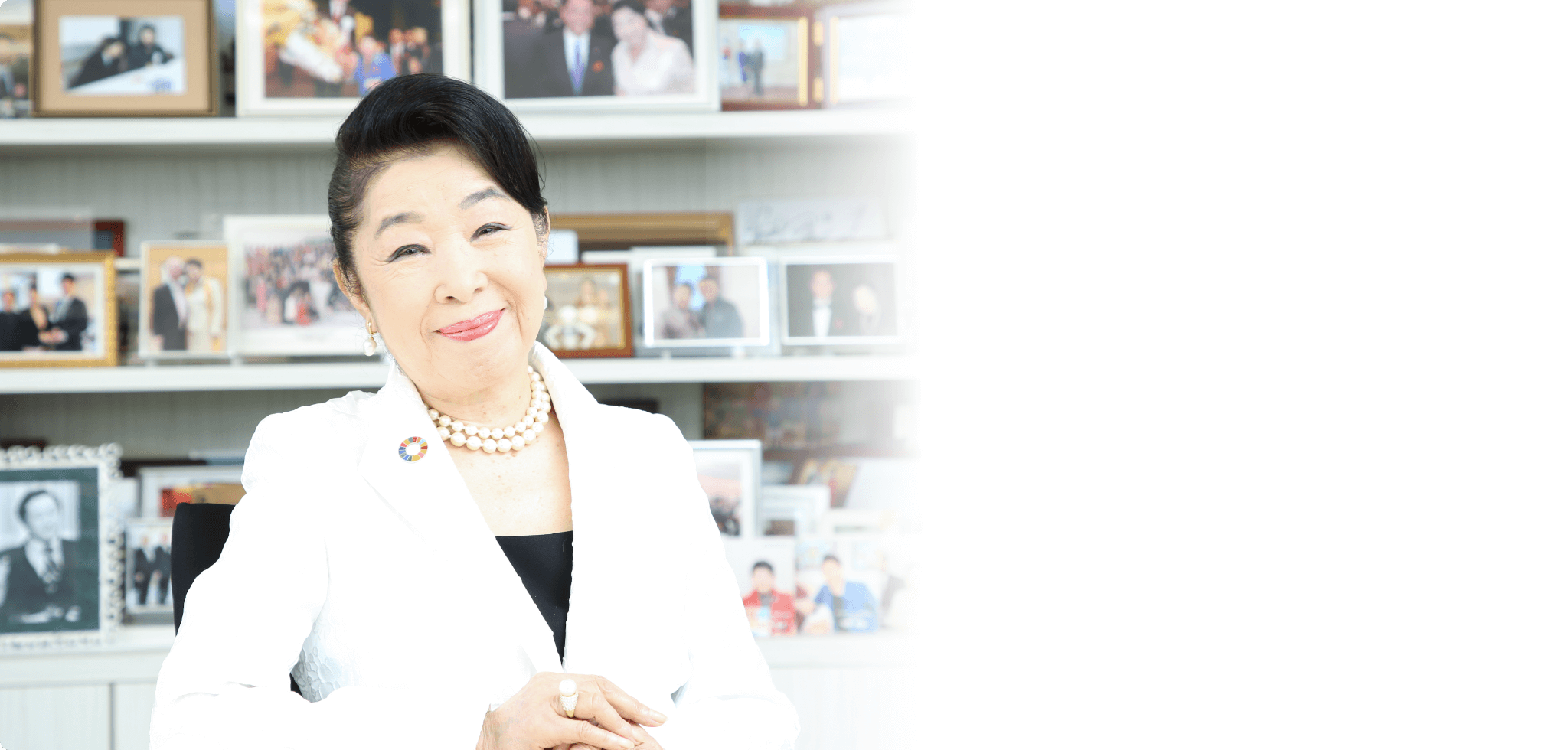 Our mission is
to create a better tomorrow
through the power of dialog.
代表取締役社長

Dial Service has built a history spanning over 50 years since its launch as a venture company offering world-first telephone counseling services in 1969—an era when there were virtually no female entrepreneurs.
Dial Service has been able to survive these 50 turbulent years because it has thoroughly fulfilled its role in society by always offering services adapted to the people in each era.
The first ever telephone counseling service was Baby Care Hotline, which was launched with the singular desire to help mothers and children due to great concern for the numerous cases of postpartum depression among nuclear families at the time the company was established. Since then, Dial Service has provided service after service in response to the needs of society.
Dial Service has been listening to those who are lost and suffering due to social changes in each era while helping them to smile and to take on a positive attitude.
Today, more than 350,000 counseling sessions are provided each year through the Dial Service hotline. Being trusted by many people, companies and local governments brings a great sense of responsibility. At the same time, we are proud of the fact that the telephone counseling service we have created has grown to become a pillar that supports society. 
Our mission is to create a better future by enabling individuals, local communities, companies and the government to face each and every problem or issue and to resolve them through the power of dialogue.
We will continue to create new services that are needed by society while treasuring the spirit that makes us ask, "May I help you?" 
Yuri Konno Profile
1969

Established Dial Service Co.

1979

Established Life Science Laboratory Inc.

1987

Established Dial Service International Inc. in New York, U.S.A.
The first Japanese member of The Committee of 200, an organization of women executives in the United States

1991

Secretary of the Japan Association of Corporate Executives (until 2007)
Executive member of the Tokyo Chamber of Commerce and Industry

1992

President of Women Leaders Forum Japan (WLF)

1993

President, Japan Committee for the 21st Century foundation
(formerly Japan Committee for 2001)

1994

Vice-Chairman of the New Business Council

2003

Outside Director of Tokyo Gas Company, Limited (until 2007)
Vice Chairman, Japan New Business Council

2010

Special Advisor, Tokyo Chamber of Commerce and Industry

2012

Special Director, Japan New Business Conference
Special Director of Japan New Business Council

2016

Vice Chairman, Japan Nursing Care Business Federation
Advisor to the Tokyo Chamber of Commerce and Industry, Olympic and Paralympic Special Committee

2018

Executive Director, National SNS Counseling Council Foundation
1985

Awarded "The Minister of Posts and Telecommunications, Information Technology Month"

1992

Certified and published in the Guinness World Record '92 for marathon Golf (153 holes in one day/8.5 complete rounds of holing out).

1998

Awarded "The Leading Women Entrepreneurs of The World"

2007

Awarded "The Order of the Rising Sun, Gold Rays with Neck Ribbon" by Emperor Hirohito

2010

Keynote speaker at the 15th APEC Women Leaders Network Meeting
Present

President, Seikatsu Kagaku Kenkyusho Co.
President, Japan Committee for the 21st Century

Books and other publications

When Women Create a Company: We could Fly too!" Toyo Keizai Inc.
Council history

National Life Council, Cabinet Office: Temporary Member
Ministry of Posts and Telecommunications: Temporary member of Telecommunications Council
Ministry of International Trade and Industry: Expert Member of Industrial Structure Council,
Ministry of International Trade and Industry: Temporary Member of 1990s Policy Subcommittee, Industrial Structure Council,
Ministry of Economy, Trade and Industry: Temporary Member, Service Policy Subcommittee, Industrial Structure Council
Ministry of Economy, Trade and Industry: Expert Member, Council for Small and Medium Enterprise Policy
Ministry of International Trade and Industry: Member, Industrial Technology Council,
Ministry of International Trade and Industry: Temporary Member, Industrial Technology Council,
Ministry of International Trade and Industry: Expert Member, Export Inspection and Design Encouragement Council,
Hokkaido Development Agency: Special Member, Hokkaido Development Council
Ministry of Transportation: Member, Transport Policy Council
Ministry of Agriculture, Forestry and Fisheries: Member, Central Forestry Council, Forestry Agency
Ministry of Agriculture, Forestry and Fisheries: Member, Fisheries Policy Council
Member, Living Environment Council
Ministry of Health and Welfare: Temporary Member, Pharmaceutical Affairs and Food Sanitation Council
Ministry of Health and Welfare: Temporary Member, Health Science Council
Taxation Agency: Member, Council on Taxation
Ministry of Education: Member, Curriculum Council
Ministry of Construction: Expert Member, River Council
Financial System Council: Member

Other memberships

Ministry of Posts and Telecommunications: Member, Study Group on Information Technology in the Home, Expert Member, Council for Science and Technology
Agency for Natural Resources and Energy: Member, Planning Subcommittee for the 21st Century Energy Vision
Ministry of International Trade and Industry (MITI): Member, Committee on Informatization Measures
Ministry of Economy, Trade and Industry: Member of Study Group for Creation of Health Service Industry
Economic Planning Agency: Member of Price Stability Policy Council
Science and Technology Agency: Expert Member, Committee on Space Development
National Land Agency: Member, Advisory Committee on Basic Issues of National Land Planning
Cabinet Office: Member, Study Group on the Creation of Lifestyle Industries
Japan Post Co.: Member, Establishment Committee
Ministry of Internal Affairs and Communications: Member, Round-Table Conference on Regional Development
Ministry of International Trade and Industry: Member, Welfare Equipment Technology Policy Subcommittee
General Affairs Committee, Industrial Technology Council International Science and Technology Exposition Association (Tsukuba Expo), Japan: Member, Public Relations Committee
Ministry of International Trade and Industry (MITI): Member of New Business Promotion Committee
Ministry of International Trade and Industry (MITI): Member of Outdoor Life Design Study Group
Ministry of International Trade and Industry (MITI): Member, Committee on Household Support Services
Ministry of International Trade and Industry: Member, Committee for the Study of Family Support Servicey (renamed from Study Group for Family Support Services)

History of local government committees

Aichi Prefecture: Expert member, Local Planning Commission
Kagoshima Prefecture: Satsuma Ambassador
Chiba Prefecture: Member, Makuhari Seaside Park Project Proposal Consultation and Review Committee
Yamaguchi Prefecture Science and Technology Promotion Council: Member
Yamaguchi Prefecture Science and Technology Promotion Encouragement Award: Member, Selection Committee
Mie Prefecture: Director, Cultural Promotion Organization
Mie Prefecture Tourism Ambassador Mie-no-kuni Tourism Ambassador (renamed Mie Prefecture Tourism Ambassador)
Mie Prefecture: Executive Advisor
Nagasaki Magistrate Tochigi Mariniere Special Envoy Ishikawa Prefecture Council for Industry, Science and Technology Council Member
Gifu Prefecture: Enku Grand Prize Selection Committee: Member
Tokushima Prefecture "Come-on Tokushima" Advisory Staff Member, e-Tokushima Promotion Council Member
Tokushima Prefecture: Special Envoy for Tourism
Toyama Prefecture Tateyama Club

Private Organizations

New Business Conference, Japan: Director
New Business Council of Japan: Vice Chairman
Japan New Business Conference (renamed as New Business Conference) : Vice Chairman
Kanto New Business Conference, Inc.: Member of the Advisory Board,
Japan Federation of New Business Councils: Vice-Chairman
International Association of Science and Technology Expositions: Staff member, Permanent Director for Venue Planning
The Committee of 200, American Women Business Leaders: Member
Keizai Doyukai (Japan Association of Corporate Executives): Secretary
The Tokyo Chamber of Commerce and Industry: Member
Tokyo Chamber of Commerce and Industry: Standing member
Aritomo Yamagata Memorial Hall Foundation: Director
Global Citizen Foundation: Director
Tokyo Marine Sports Foundation: Councilor
The Japan Foundation for the Promotion of Publication Culture and Industry
The Japan Dance Foundation Board Member
The Yamato Welfare Foundation Trustee
Center for the Exploitation of Local Traditional Performing Arts: Director
The World Peace Research Institute Councilor
Japan Directors Association, Limited Liability Intermediate Corporation: Secretary

Other Career

Seitoku University and Seitoku Junior College: Visiting Professor
Development Bank of Japan: Member, Business Roundtable
Hosei University Educational Corporation: Member, Third-Party Evaluation Committee
Southern Cross Country Club: President
Management Council, Hokkaido University (National University Corporation): Member

Awards

Member of the Tokyo Chamber of Commerce and Industry, 15-year longevity award